Prehnite
Prehnite is a gorgeous mineral which often occurs in stalactites or in botryoidal formations. It is often green or clear, but pink, blue and orange pieces have been found too.
Some gem quality pieces have been faceted for jewellery making. It is also polished for tumblestones, cabochons, etc. Some pieces have needle-like inclusions of Epidote.
Showing all 3 results
Appearance, Uses and History
Prehnite is often used as an inexpensive gemstone. This was not always the case, though. Recent finds of Prehnite in gem qualities have significantly lowered the price of the material.
It is not widely used in mainstream jewellery, however. It is almost always cut en cabochon, with some rare faceted stones available. Some pieces may show 'cats eye' asterism.
---
Locales
Nice specimens have been found in Australia, China, Czechia, France, Germany, India, Italy, Kazakhstan, Mali, Mexico, Morocco, Namibia, Pakistan, Russia, Spain, Switzerland, and the United States.
---
Mineralogy
Chemistry
Calcium aluminium silicate, sometimes with Iron. Ca2Al2Si3O10(OH)2+Fe
Colours and Variations
Usually pale green, light green, etc – usually translucent.
May also be yellow-green, brown-green, blue-green. In rare cases, it can be colourless, red, orange, etc.
Often found with inclusions of Epidote.
Luster
Vitreous to pearly to waxy
Fracture
Uneven to conchoidal
Crystal habit
Usually fibrous, can be globular, stalactitic, botryoidal.
Specific Gravity
2.8 – 3.0
---
Photos of Prehnite
---
---
---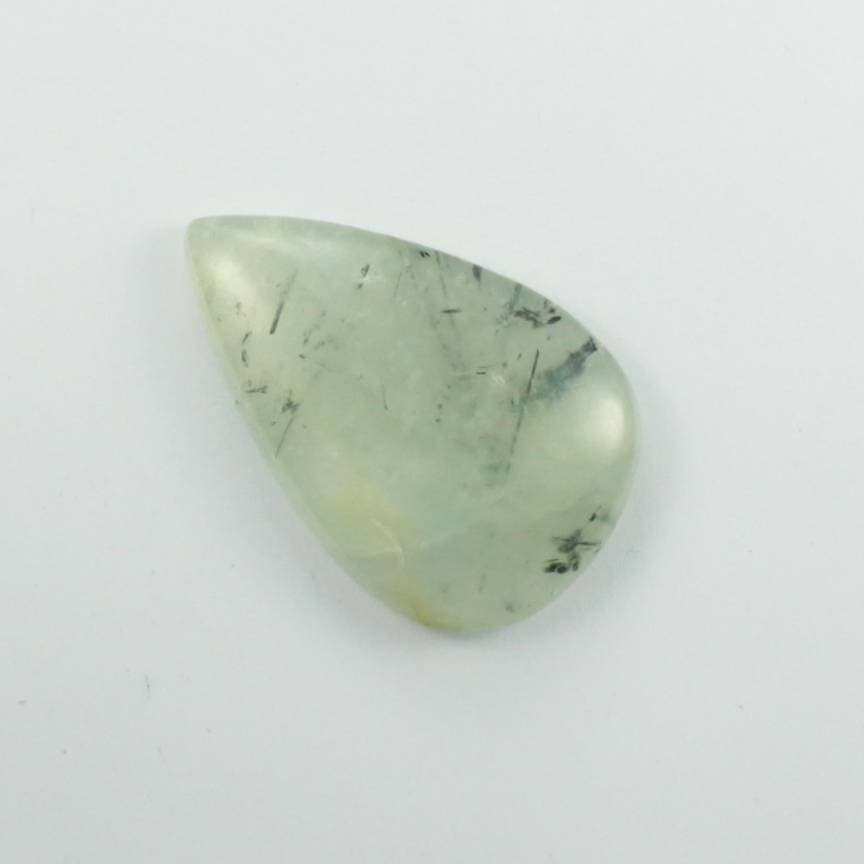 ---
Hazards and Warnings
Almost all rocks, minerals (and, frankly, almost all other substances on earth) can produce toxic dust when cutting, which can cause serious respiratory conditions including silicosis.
When cutting or polishing rocks, minerals, shells, etc, all work should be done wet to minimise the dust, and a suitable respirator or extraction system should be used.
---
Translations
Mandarin and Traditional Chinese:
---
Further Reading / External Links